Marmosets
Marmoset Monkeys for Sale
Interested in a smaller type of monkey? Maybe a common marmoset monkey, also known as a finger monkey, might be what you're looking for. The reason why people call marmosets finger monkeys is because when they are a baby, they can fit around your finger. Even adult marmosets will fit in the palm of your hand. The term, finger monkey, is however a term frowned upon by most primate owners since it shows that you're unfamiliar with the species.
The most commonly kept species is the common marmoset and while pygmy marmosets are even smaller, they are not readily available to the public. Although common marmosets are one of the smallest primates you can keep as a pet, they can be very fast and at times rather unpredictable. They require specialized care and attention and can live up to 15-20 years, so let's make sure you're ready for this long term commitment.
Although marmosets are much smaller than a capuchin, they still require a fairly large enclosure. Whatever enclosure you end up getting, make sure it is at least 6ft tall. Like all primates, marmosets are social animals that require a lot of attention, so if you're not home during the day, you'll need to buy a companion marmoset. Before you're looking for baby marmoset monkeys for sale, make sure to do your research. Unlike larger species, marmosets are much more fragile and cold sores are fatal to them.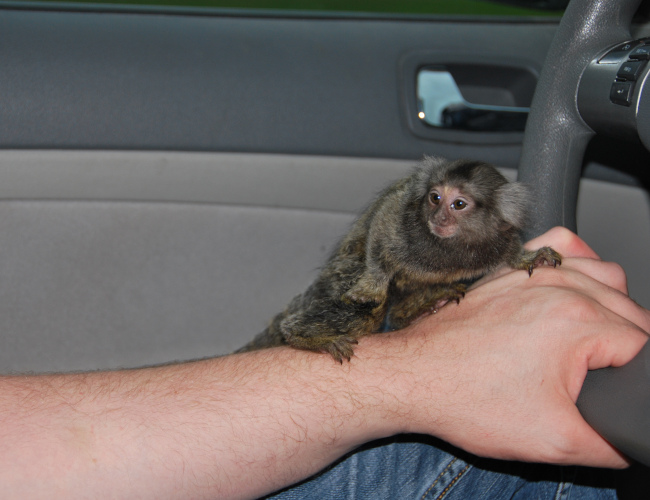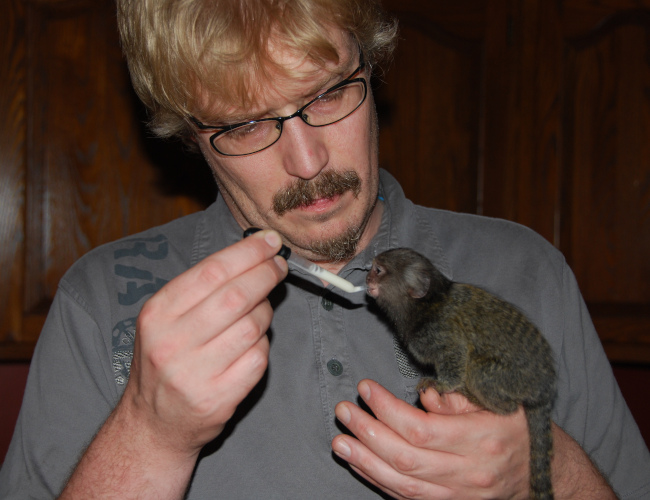 Marmoset Monkeys For Sale
---
Let's go over the most commonly asked questions by people looking to buy a baby marmoset monkey as a pet.
How much does a marmoset monkey cost?
Are marmoset monkeys good pets?
Do marmoset monkeys bite?
Should I get my baby marmoset monkey from a breeder or broker?
Is it legal to keep a marmoset as a pet monkey?
Are cold sores fatal to marmosets?
What should I feed my marmoset monkeys?

---
When you're in the market to buy a baby marmoset monkeys, you'll notice that they're often sold between $3,000.00 - $4,500.00. A hand-reared common marmoset will obviously be more expensive than a parent raised marmoset. Parent raised marmosets will be more challenging to handle from day one. Be careful responding to online ads with a much lower price, since those ads are most likely a scam. Due to the fact that older marmosets are much more challenging to handle, we do not advice first-time primate owners to ever get an adult marmoset.
It is not that uncommon for monkey breeders to request a deposit but make sure you have proof of that deposit. Before purchasing your marmoset, make sure your breeder or broker has an USDA license. In the USA it is illegal to sell primates without an USDA license. A lot of first time owners get scammed, so please be careful. Make sure to ask for proof of their USDA license before submitting payment. We always recommend that future primate owners pick up their marmoset monkey at the facility of the breeder or broker so you can see firsthand how well their primates are being taken care off. If you've arranged for your marmoset monkey to get transported, make sure the person transporting your monkey has the proper licenses to do so.
Although marmoset monkeys are small, their care can't be underestimated. While the initial purchase price is high, you have ongoing costs with their enclosure, enrichment items, toys, vet visits, and of course their diet which consists of fresh vegetables, fruit, and commercial primate biscuits. Their daily diet will cost you around $3.00 per day.
The first 6 months you can expect them to want and spend a lot of their time clinging to your body which is an important part of the bonding process. If you work during the day, it is recommended that you get them a companion since they are very social animals.
Marmoset monkeys can live up to 15-20 years, so it is important to do your research to make sure you're ready for this commitment.
Visit our Monkeys For Sale page to find marmoset monkeys for sale in your area.
---
Due to their small size, marmosets are one of the more commonly kept primate species. Their nickname, finger monkey, basically tells you why people easily fall in love with them because they are indeed very cute when you see baby marmosets attached to a finger. Don't underestimate their bite though because while they are small, they still have very sharp teeth. Unlike larger primates, like capuchins, they can't be easily trained but you'll be able to handle them as long as you spend sufficient time with them. While kissing them can be tempting, you should refrain from doing so since cold sores are deadly to them. They are definitely a bit more fragile than the larger species.
The most popular marmoset species is the common marmoset (callithrix jacchus) but sometimes you'll also see geoffrey marmosets (callithrix geoffroyi) for sale. While pygmy marmosets are a lot smaller, they're not readily available to private owners.
Marmoset, like all primates, can be very challenging to keep as pets but that doesn't make them less attractive. The way they eat and handle objects is very much like us humans which makes them so special. Although they are small, it is amazing how quickly they can move around. They can easily leap from one branch to another so get ready to monkey proof your home to keep them safe.
A marmoset monkey is definitely not for everybody and shouldn't be kept around kids since monkeys and kids don't mix. When they get older, their behavior will become more challenging so prior to adding a marmoset monkey to your family, make sure to do your research to make sure they are the right fit for you and your family.
---
All monkeys bite so that includes marmoset monkeys. Although they are one of the smaller species in the monkey kingdom, their teeth are still pretty sharp. It is important that you handle your marmoset monkey often to create a strong bond between you and your monkey.
In the wild marmoset monkeys live in large groups. Those that are at the top of the hierarchy might get challenged from time to time but having that alpha status will prevent you from getting injured.
Over time you'll learn to understand their behavior which is one of the reasons why it is important for first time owners to start with a baby marmoset. The older they get, the more challenging it will become to allow your marmoset to interact with strangers . In all honesty, you should minimize contact with strangers especially with marmosets since cold sores are fatal to them.
---
While many people seem to prefer to obtain baby marmosets for sale from a breeder directly, in the end it all depends on the reliability of that breeder or broker. Before getting your monkey from any breeder or broker, get feedback from current owners through social media groups to see what their experience was with a particular breeder or broker.
Whomever you end up buying your baby marmoset monkey from, make sure they have an USDA license that is current. Nobody within the USA can sell you a primate without a valid USDA license and that includes rehomes being sold at a fee.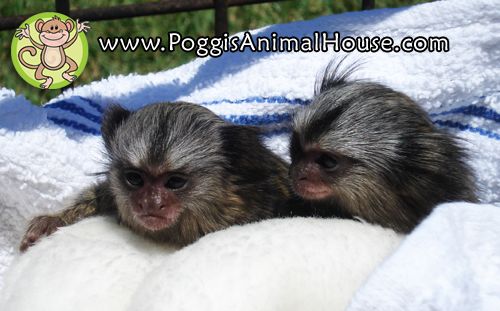 Baby Marmosets For Sale
---
Unless you want your monkey to be taken away from you, make sure to find out if you're even allowed to keep a marmoset monkey where you currently live.
A lot of states have rules and regulations in place in regard to primate ownership. In some states primate ownership might be completely illegal, while other states or cities limit the ownership to new world primates, like marmosets, only. Either way, contact the USDA to find out if you're allowed to even keep a marmoset monkey in your state.
Once you know it is legal to keep a marmoset monkey in your state, you'll need to find out if the county you live in has any ordinances against primate ownership.
As a last step you'll need to find out if your city and county has any restrictions in place regarding primate ownership. Even though it might be legal to own a primate in your state, when you're within city limits, you're in many cases not permitted to keep a marmoset monkey on your property. If you live within city limits, contact your city clerk to find out what ordinances are in place in regard to primate ownership.
---
When primate owners talk about the kiss of death, they're often referring to Herpes Simplex. Herpes Simplex (HSV1), more commonly known as cold sores, is the number one cause of death with marmosets and tamarins since there are no effective treatment options available. While old-world monkeys will experience the same reactions to this virus like us humans, it is often fatal to smaller new world primates like marmosets, tamarins, and owl monkeys.
What most people don't realize is that most human adults are carriers and even when the virus is dormant, it can still be transmitted. More than 80% of the human population are carriers. Once you're infected, you're a carrier for life. Even if you've never showed any symptoms and the virus seems dormant, you can still infect your marmoset or tamarin.
Shedding happens through the fluid of fever blisters and saliva, so prevent kissing your marmoset and don't allow them to take food out of your mouth.
The most common signs of an infection are loss of appetite, sudden seizures, ulcers on skin/mouth/tongue, lethargic, and possibly vomiting or diarrhea. If you suspect your marmoset or tamarin has been infected with Herpes Simplex, take your monkey to the vet immediately. In nearly all instance, death will occur within 1-4 days (3 on average). When treated with Aciclovir marmosets and tamarins seem to be able to survive for about 20 days.
It is a very painful disease so please avoid contact with your mouth as much as possible.
---
Marmosets are omnivorous. In the wild they live in groups of up to 30 individuals and they'll feed on flowers, insects, tree sap/gum, fruits, spiders, lizards, amphibians, snails, and other small invertebrates.
You'll want to feed them a diet that consists of fruits, vegetables, hard boiled eggs, cooked lean meat (like chicken), yoghurt, insects (like mealworms, crickets, and grasshoppers), and monkey biscuits or specific marmoset diet.
If your marmosets don't have access to an outdoor enclosure, make sure to give them D3 supplements which is needed for their bone structure. As an alternative, many marmoset owners use full spectrum lights to help prevent Metabolic Bone Disease.
As with all primates, marmoset monkeys should have access to fresh water at all times.
Marmosets are gum feeders. They'll use their sharp teeth to gnaw holes in trees to get the gum so it is important to give them access to branches. In the wild marmosets will spend about 1/3 of their time doing this so this is truly the best enrichment you can give them. You can also buy arabic or acacia gum in powder form. When you mix that with water (30% gum / 70% water), you can insert that paste into the holes of a pre-drilled branch.
We always have Marmosets For Sale at our monkeys for sale page.